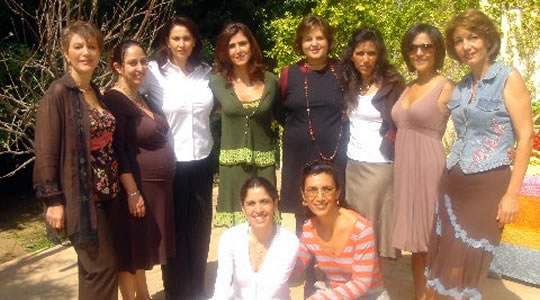 Noushin Adhami, D.D.S
Sharon Nazarian Baradaran, Ph.D.
Sharon received her Doctorate of Philosophy degree from the University of Southern California in the field of Political Science. She is currently an adjunct professor at the University of California, Los Angeles, in the Department of Political Science. Sharon is also the founder of the UCLA Israel Studies Program, and currently the Chair of its Advisory Board. She is also the President of the Y&S Nazarian Family Foundation, focusing on education and culture in the US; with a counterpart in Israel named Ima Foundation, focusing also on education, culture and emergency assistance. Currently Sharon sits on the boards of American Friends of Hebrew University, American Society of the University of Haifa , the Iranian Jewish Women's Organization, as well as the Jewish Federation of Greater Los Angeles. Sharon has been married for 17 years and has 3 children.

Nazila Shokrian Barlava, Esq.
Nazila moved to Los Angeles in 1971, when she was eight years old. She grew up in Los Angeles, where she attended UCLA for undergraduate and graduate studies. She attended Southwestern University of Law. Nazila has been working as a criminal defense attorney for Los Angeles County since 1990, where she represents indigent clients. Nazila lives with her three children and her husband Jacques Barlava.

Farnaz Halavy Galdjie, Psy.D.
Dr. Farnaz Galdjie is a clinical psychologist in private practice in Los Angeles, providing individual and family therapy to the Iranian and American public. She has received her Doctorate of Psychology from Ryokan College in 1998. She is also currently the program director of Antioch Counseling Center, where she supervises and oversees Clinical Psychology Interns. Dr. Galdjie has founded IAMHA, the Iranian American Psychological Association and had been its board member for the past 8 years. She is also on the board of the Iranian Women Jewish Organization (Women of Vision Chapter). Dr. Galdjie was the recipient of the Shamsi Hekmat Award in 2006. Dr. Galdjie has been married for 23 years and is the parent of 2 adult children.
Firouzeh Manesh Javidzad, D.D.S
Firouzeh has a B.S. in Cybernetics, with emphasis in bioengineering and a D.D.S. both from UCLA in 1987 and 1991 respectively. In June 1992, she completed her residency in Hospital Dentistry. She has published two articles related to Carotid Artery Calcification on Panoramic Radiographs. Firouzeh is currently an adjunct lecturer at the Restorative Section of UCLA School of Dentistry, and enjoying dentistry at a private family dental practice. Firouzeh was the recipient of the Shamsi Hekmat Award in 2002, and the Lecturer of the Year award in 2007 from UCLA Section of Restorative. Firouzeh has been married for 15 years and has four children.
Dorit Halavy Miller, Psy.D.
Dorit is a Licensed Clinical Psychologist in private practice, a Certified Pre-Marital Therapist, Certified Hypnotherapist and a State Approved Clinical Supervisor. She is also the Founder and Program Director of Antioch University International Counseling Center. Dorit received her Doctorate Degree in Clinical Psychology and her Bachelor of Arts in Child Development. Prior to becoming a psychologist, she was a pre-school director at Beth Shalom Temple in Santa Monica. In her private practice, she is an expert in family and couples therapy where she works in a very unique and dynamic way, incorporating various treatment methods. Throughout the years, Dorit promoted culturally sensitive therapeutic materials and held many seminars and lectures at various centers including the NeuroPsychiatric Institute (NPI) at UCLA and Thailians at Cedar Sinai. She had her own talk radio show on KIRN 670 AM, was a regular guest on Iran TV and an active freelance writer for the Jewish World and Shofar Magazines. Dorit is the co-founder and executive board member of the Iranian American Psychological Association (IAPA) as well as the co-founder and board member of the Women of Vision, a chapter of the Iranian Jewish Women's Organization. She is married, has 2 sons, lives in LA and is fluent in Hebrew, Farsi, and English.
Lobat Ghatan Mirzadeh, Esq.
Lobat received her Bachelor of Arts in Psychology from U.C.L.A.. She obtained her Juris Doctor from Loyola Law School where she graduated Cum Laude, Order of the Coif. Her areas of practice include bankruptcy, general business litigation, and insurance defense. She has been married for four years and has one son.
Sanam Khalili Sarraf, M.B.A
Sanam was born in Iran and immigrated to Israel with her parents and sister at the age of six. Eight years later she moved to Los Angeles – reluctantly, but excited to finally be reunited with her extended family. Sanam obtained her bachelor's degree in Mathematics from UCLA, and her MBA from the UCLA Anderson School where she was an active member of the Women's Business Organization as well as the Student Career Center. Following graduate school Sanam worked for a number of consulting firms specializing in business strategy and operations management consulting. In that capacity she assisted numerous IT and Health Care companies resolve their most complex operational challenges. In 2002 Sanam joined Health Net, Inc. as a manager of Strategic Sourcing, where she leads sourcing initiatives to procure various products and services and negotiates strategic vendor contracts. Sanam lives in Los Angeles with her husband, Shahdad, and their little boy, Nima.
Mona Shenassa Toubian, M.B.A
Mona founded her business management consulting firm, The MST Group, in Europe eight years ago, which she has now expanded into the United States. She organizes numerous educational programs with international guest scholars and also lectures at a wide variety of development programs and seminars. Mona has created and runs an innovative counseling and self-development center at the Westwood Kehilla and is now duplicating this concept and opening up centers at various Universities in California. She is active in a variety of businesses, political and art-related organizations and is a board member of a number of charitable foundations. Mona has spent many years in the study of religion and spirituality in Israel, as well as India, China, Thailand, Nepal, and other parts of the world. She has spent the last nine years studying the practical and mystical aspects of Judaism with some of Israel, London and Los Angeles's great Rabbis. Mona received her Masters in Business Administration (M.B.A.) from Georgetown University and dual undergraduate degrees in Psychology and English Literature from UC Berkeley. She is an Oxford Scholar, a Marriage and Family Therapist Candidate, and undertaking her Ph.D. program in Human and Organizational Development & Management. She currently resides in Los Angeles with her husband Michael and their three children.