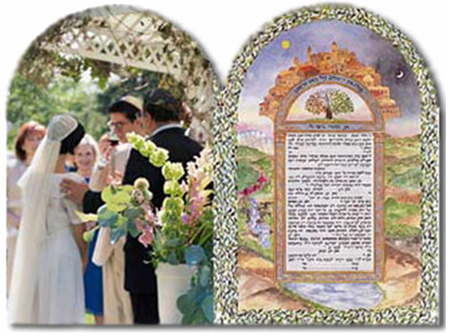 Iranian Jewish Women's Organization in Los Angeles and Ima Cultural Association in New York in pursuit of their mission to preserve the image and protect the rights of Jewish women, with the support of our communal religious authorities, are proud to present and promote the preventive options available for families. On of such options, is a pre-marital agreement, prepared by Beth Din of America with regard to orthodox Jewish marriage and divorce. Such options are intended to prevent later disappointments and distress in case of the dissolution of the marriage .
On November 19, 2006, in order to inform the community about the need and t he Hallakhic validity of the pre-marital agreement, Rabbi Yona Reiss, the president of Beth Din of America, was gracious enough to accept the invitation of Iranian Jewish Women's Organization and visit Los Angeles for one day. During his stay, two events were held. First a luncheon at UCLA Hillel with the members of Iranian Jewish community, hosted by Iranian Jewish Women's Organization. At this meeting both Rabbi Reiss and Rabbi Chaim Seidler-Feller, the head of UCLA Hillel, discussed the importance and the need of such pre-marital agreements. The second event held at Nessah Cultural Center, was a Seminar open to the public discussing the validity and the social, legal and ethical need for such preventive steps. The meeting was ended with questions and answers by the audience.
The participants of this seminar were Alexandra Leichter, Mrs. Parvaneh Sarraf, Nahid Pirnazar Oberman (moderator) Rabbi Yona Reiss, Rabbi David Shofet, Rabbi Nissim Davidi and Rabbi David Akhamzadeh. Dorit Halavi Miller and Mona Shenassa Toubian conducted the question and answers.
For the more advanced information and the latest development contact:
Beth Din of America Tel: 212- 807-9042, fax 212- 8079183
E-mail: menahel@bethdin.org * WWW.bethdin.org * www.Jofa.org
| | | |
| --- | --- | --- |
| | Number of Pictures: of | |